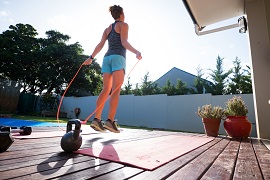 If you are always thinking about buying the latest piece of home fitness equipment or find yourself wasting money on equipment that you never use, stop there!
You can get in shape without the latest gadget and you don't need to spend thousands to commit to a fitness routine.
Feeling motivated and inspired to exercise at home when it's not possible to go to the gym or a local fitness camp is important if you want to improve your fitness level. Here are some tips to help you choose the correct fitness equipment.
Home Fitness Equipment Options
When looking for a fun new fitness toy,  be sure to keep both your budget and the amount of space you have available in mind.
Budget: $1 to $20
Consider investing in a yoga mat. It not only provides you with a designated mini fitness space, but also a soft, clean surface for any floor-based exercises.
A jump rope is a cheap and fun piece of equipment that you can use to work on your cardiovascular fitness. The fact that jumping is high impact in nature makes it a great strengthening routine.
Budget: $20 to $80
Strength and stability-based workouts are essential as part of a well-balanced exercise plan. Dumbbells, a medicine ball, a resistance band or a stability ball are all pretty reasonably priced and provide a great option for working out at home or outdoors. A stability ball can also be used in place of a chair at the office to keep your core working throughout the day.
Budget: $100 to $200
If you already have a bike and enjoy cycling to get your cardio fix, a stationary bike stand that converts your bike into a cycling trainer is a great way to do your rides indoors.
Budget: $400+
If you don't have an outdoor bike and have no intention of riding outdoors, getting a stationary exercise bike may be a great choice for you. Riding is low impact in nature and provides a great form of exercise to help you get in shape.
The most popular piece of in-home exercise equipment is the good old treadmill. I love running outdoors, but I know many people who enjoy a treadmill workout. The convenience of having one in the office or at home makes skipping your workout less likely. However, because buying a treadmill is a considerable financial investment, you need to think about why you want one, how often you plan on using it and what features you need to fit your overall goals.
Here are six tips and things to look for when buying a treadmill:
Try before you buy. Treadmill decks come in a variety of lengths and should suit your stride length.
If you're planning to run on a regular basis, pick a thick belt surface to help cushion your steps.
Don't skimp on safety. An auto-off safety switch is a must, especially if you have children. For your own safety, a tether and safety clip is an important feature that attaches to your clothes and automatically shuts the treadmill off if you move too far back from the console.
If hill running is important to you, find a treadmill that offers up to a 15% incline. Most simple models will offer 8-10%.
A personal history log may be useful if you are training for a specific event. Having the ability to monitor calories burned and heart rate can help keep you motivated.
Pre-selected programming is a great feature to have so that you don't have to plan yourself. It's like having a built-in personal trainer.
Take time to assess your personal needs and goals. If you think that having some fitness equipment at home will motivate you to exercise more, then start with something that is not expensive and see how committed you are to using it before investing in a pricier option.
My favorite exercise routines involve no equipment at all. There are so many choices when it comes to choosing the best workout plan, so pick an exercise plan that keeps you engaged and excited while avoiding gimmicky pieces of equipment that are a waste of time and money.
Always remember that your own body is the best piece of equipment you own. It goes everywhere with you, so you can exercise at any time. No excuses!
Find out more at: http://www.DiscoverHerbalife.com